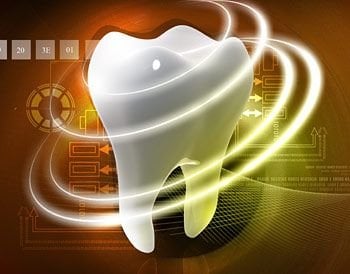 The complex devices all around us — from long-range satellite links in our cars and offices to powerful computers in our hand-held gadgets — prove beyond a doubt that we live in a technology-driven world. In the field of dentistry, new technology is constantly changing the way diseases are diagnosed, routine procedures are performed, and illnesses are prevented. Although they may seem unfamiliar at first, new and improved dental technologies offer plenty of real benefits for patients. Here's a look at some of the latest examples, coming soon to (or now appearing at) a dental office near you.
CAD/CAM Same-day Crown Fabrication. Hate to wait? By combining 3-D digital imaging and computer-aided design and manufacturing technology, it's now possible to have permanent crown restorations completed in a single day — much better than leaving the office with temporary crowns and coming back weeks later for permanent ones.
Nitrous System. Nitrous oxide, a colorless gas with a slightly sweet odor, has been used in medicine for about a century; however its outdated nickname, "laughing gas," is undeserved. It's a safe and effective method of administering conscious sedation — which means that you'll stay awake during the procedure.
In-Office Dental Implants and Dental Implant Motors

. Tooth replacement took a giant leap forward with the widespread use of dental implants — today's preferred method of replacing teeth. Dental implants are small titanium posts that replace the root part of your missing tooth. A realistic dental crown is then attached to the implant for a replacement tooth that looks and feels exactly like what nature gave you. Our practice utilizes Aseptico Dental Implant Systems.

Carestream 3600 Digital Dental Impressions

. Remember biting down on a tray of putty-like material, so a model could be made of your teeth? A digital imaging device now makes that unnecessary. Instead, your teeth can be "dusted" with a fine reflective powder, which is then recorded by a special camera. A series of images is converted into a 3-D model, which can be used to assess a tooth's condition or fabricate dental restorations. The Carestream 3600 intraoral scanner makes capturing digital impressions fast and easy, producing highly accurate, full HD 3D color images with enhanced quality and texture, so you can see exactly what's happening in your mouth.

Digital X-Rays

. Diagnostic x-rays have long been invaluable to dentistry. The emergence of digital technology in the past decade, however, has made dental x-rays safer and even more useful. Digital technology cuts radiation exposure to patients by as much as 90% over traditional x-rays. And there are other advantages including the elimination of waiting time for pictures to develop, and sharper images that can be enhanced instantly to show detail.

Panoramic X-Rays. Our practice uses Gendex and Midmark panoramic x-rays to capture the mouth, teeth, and jaw in a single image.
Versamill Milling Unit 5X400. The strength and rigidity of the Versamill 5X400,

coupled with the undercut machining capability of full 5-Axis control provides perfect fits, great anatomical detail and the best possible restorative margins with faster cycle times and greater tool life for constructing i

nlays, onlays, copings, crowns,

veneers, splints & guides.

Microscopic Endodontics. The Global Dental Operating Microscope provides improved illumination and magnification enhancing the precision and manipulation of all diagnostic and technical aspects of Endodontics.
---
Related Articles
Can you imagine the day your dentist actually grows you a new tooth to replace one that has been lost? Can you conceive of the day when dentists protect babies from tooth decay before they even have teeth? Learn more about these exciting innovations — they're closer than you think... Read Article
Dental Implants – Your Best Option For Replacing Teeth
Dental implants have many advantages over older methods of tooth replacement like bridges and dentures — from the way they function and feel to the way they look and last. Vigorous research has documented and confirmed that in the right situations, dental implant success rates are over 95%. It is no exaggeration to say that they have revolutionized dentistry. They may even change your life... Read Article
---
Same-Day Crowns (CAD/CAM)

Category: Technology

A tooth that has been structurally damaged by decay or trauma sometimes needs to be crowned or "capped" so that it can look good and function properly again. A crown is a durable covering that is custom-made to fit over the entire tooth from the gum line up. Crown fabrication traditionally takes

Read more

Nitrous System Category: Cosmetic & General Dentistry

Some people fail to receive the benefits of modern dental treatment because of a simple yet seemingly overwhelming problem: Fear. It isn't uncommon to have a little anxiety about an upcoming dental procedure. But if your fears have kept you away from the dental office when you know you really should

Read more




Intra-Oral Camera

Category: Technology

The intra-oral camera is a valuable tool dental professionals can use to help you understand your examination, diagnosis and treatment. This small, handheld video camera is about the same size as a dental mirror (or an oversized pen) and comes with a disposable plastic sheath for contamination prevention.

Read more


Dental Implant Motors Category: Technology
Aseptico Dental Implant Systems are used for dental implants, oral surgery, and endodontics.
Digital X-Rays and Panoramic X-Rays

Category: Technology

It's almost impossible to imagine the practice of dentistry without x-ray technology. Radiographs (x-ray pictures) allow dentists to diagnose and treat problems not yet visible to the naked eye, including early tooth decay, gum disease, abscesses and abnormal growths. There is no question that since

Read more


Carestream 3600 Digital Dental Impressions

Category: Technology

For years, whenever you needed a dental crown (cap), your dentist had to make molds of your teeth which required taking an impression of your teeth. A tray filled with a goopy, putty-like material was used so that a three-dimensional model of the prepared tooth could be created. Using this mold, a dental

Read more


Versamill Milling Unit

Category: Technology

Coming soon!

Read more